It's often a struggle for any business to cut costs in today's competitive marketplace. However, one area that you simply can't afford to cut is commercial air conditioning service in Bronx. We depend on our HVAC units to run strong in NYC – and when we forget (sometimes due to budgetary reasons) to schedule a routine AC service call it can; and often does – eventually bite us in the pocketbook. So since AC service is vital for keeping them running strong and not breaking down – the question many business owners as is whether affordable commercial AC service in Bronx is actually a reality?
Well – actually, affordable commercial air conditioning service is a reality – you just need to know where and how to find and activate it. Here are a few tips that will help you find an affordable and dependable commercial air conditioning service company in Bronx.
First – Talk with Fellow Business Owners
They say that word of mouth advertising is the best way to get factual information about quality service. This is why the best tool at any business owner's disposal for hiring any commercial AC service company in Bronx is the fellow business owners in your neighborhood. As your friends a few questions including:
What type of HVAC unit does your business depend on?
What type of commercial air conditioning maintenance program do you have?
Who services your commercial air conditioning unit in Bronx?
When you start with some basic questions, you'll often discover that many business owners in your neighborhood have similar problems you experience. If they have the same type of AC system and they're satisfied with the company that keeps their system running strong – give those guys a call and see if they have a program that fits your needs and budget.
Second – Contact the BBB
The next step for finding affordable commercial AC service in Bronx is verifying that a company is in good standing with the BBB. You never want to deal with shady business people – but when it comes to your HVAC system and the health and safety of your employees; you need a dependable company to complete all service. The Better Business Bureau is a great source of information for people to gather information in any service industry. However, the BBB does a bang-up job monitoring commercial HVAC repair companies in Bronx and will have no problem looking any company up for your inquiry.
Here is a tip – make sure any commercial HVAC company in Bronx you hire has an "A" rating with the BBB. Nothing less should be your standards.
Third – Contact the Commercial HVAC Company in Bronx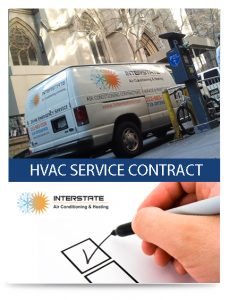 The final step for finding affordable HVAC service in Bronx is to contact the company directly and ask them about commercial air conditioning service agreements in Bronx that they offer customers. A service agreement or HVAC service contract is a program where the company will perform maintenance periodically on your HVAC system, but you get FREE service calls if or when your system does break down. This ensures that if there ever is a problem with your cooling or heating system in NYC – the commercial HVAC Company in Bronx will quickly arrive to take care of the issue.

A service contract is by far the most affordable way to complete routine commercial air conditioning service in Bronx. To learn more about HVAC service contracts – click this link or contact the experts at InterstateAir.com online today.

Why Indoor Air Quality in Brooklyn is Vital to Business Owners » « End of Summer Tips to Save Money on Manhattan Air Conditioning Service