Labor Day signifies the official end of summer. However, just because the 'summer season' is ending, it doesn't mean that the temperatures will automatically start to drop. In fact, it's quite common for businesses in Manhattan to keep the AC turned on till mid-October. Because of this, it's important to find affordable ways to keep your commercial air conditioning system in Manhattan well maintained.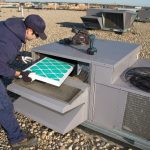 There are several things you can do on your own that will help you save tons of money and energy each month – prior to your routine Manhattan air conditioning service.
Tip #1 – Change out your Indoor Air Filters Every Month in summer
The best way to reduce buildup of dust, debris, dirt and other harmful stuff that often leads to air conditioning system failure is to replace your indoor filters every month. It gets rather muggy in New York in the late summer season. And when we get humidity, the dirt and debris that collects in our indoor filters tends to turn to hard mush – which blocks the air flow considerably. The best way to eliminate this condition is to replace the indoor air filters every month – to permit your AC system in Manhattan to breathe easy. And when your commercial air conditioning system breathes easier – it runs more energy efficient; thus saving you money on monthly energy bills.
Tip #2 – Check your Thermostat for Settings Weekly
Another common item that tends to become damaged and needs to be repaired during a routine AC service visit is the thermostat. Believe it or not, the thermostat is a highly sophisticated and calibrated device. And when it's bumped, or rubbed against the wrong way it can – and often does fall out of calibration. And if the thermostat is not working right, it can lead to an AC system that doesn't work very efficiently. A great solution to this problem is to check your thermostat every week. Here are two easy things you can do:
Check the settings on the thermostat. If somebody inside the office has 'adjusted' the temperature settings themselves, make sure it was done correctly and that the programming is not impacted. Quite often people that don't know how to use the thermostat start pressing buttons until they get what they want. The results – however could cost you money during routine service. If you have found your energy bills to be quite high, even if you are currently checking your thermostat, you can always look into a site like Simply Switch, who can help you save even more money on your energy bills and get you the latest deals for gas and electricity.
Check to see if the thermostat has moved. As we stated above, sometimes people will accidently bump the thermostat. If this happens, make sure to check it to verify that the temperature settings are correct. If you notice that your AC is not cooling as good as it should – call a service technician quickly so they can repair the thermostat issue before it turns into a big problem.
Tip #3 – Check the Outdoor AC System for Debris


An air conditioning system works similar to a vacuum cleaner – air flows in and out of the unit freely; or at least, that's the way it's supposed to work. One major cause of AC system overheating is when it's blocked by debris outside – like trash, leaves and excess dirt that finds its way to the roof top. A great way to solve this potential problem is to have a commercial air conditioning company in Manhattan simply check your outdoor AC system during their maintenance checks.

If you follow these three tips for keeping your Manhattan commercial air conditioning system running smooth, you'll quickly see savings in your monthly energy bills and the AC tune up company will thank you for making their job much easier.

Is Affordable Commercial Air Conditioning Service in Bronx Possible? » « Truth in Advertising – Funny HVAC Advertising