As a business owner in Manhattan, you truly understand the concept of 'bottom line'. Well, here is a bottom line fact – if you don't keep your HVAC system properly maintained – it will break down sooner than you'd like. You depend on your heating and cooling systems to keep your doors open on the coldest days in winter and the hottest summer afternoons. As such, you'll want to schedule commercial HVAC maintenance in Manhattan from time to time to keep your system running strong – when you need it most.
Here are two simple tips on how to keep the cost of having a commercial HVAC company in Manhattan perform routine maintenance on your heating and cooling system as low as possible.
Tip #1 – Don't Wait for Your HVAC System in Manhattan to Break Down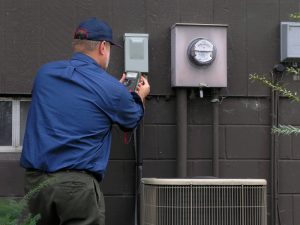 We'll file this first tip as coming from Captain Obvious. However, the reality is that many business owners never consider having commercial HVAC maintenance completed in Manhattan until their heating or cooling system has either broken down or is on its last legs. In fact, it's estimated that over 40% of all commercial HVAC system breakdowns are caused because of lack of maintenance.
The way this works is very simple. An HVAC unit is just like any other mechanical device. Once dirt gets into the system, parts are more likely to rust and get ruined. However, this also reduces the function of the lubrication systems that are designed to keep those moving parts – moving easy. When this occurs, the HVAC system tends to overheat – resulting in premature wear and tear of parts that keep your HVAC unit functional.
By staying on top of HVAC maintenance, a commercial HVAC Company that services Manhattan can find problems before they arise. This saves you a TON of money on expensive repairs. In fact, there are several commercial HVAC service agreements that companies offer to help offset routine maintenance call costs also.
Tip #2 – Shop Around for HVAC Maintenance in Manhattan – But Have High Standards
You can also save money on routine HVAC maintenance programs by shopping around online or asking your friends who they depend on for their HVAC maintenance solutions. However, sometimes the cheapest option results in shoddy work – and can lead to a completely broken down HVAC system. Here are a few things you should verify that any commercial HVAC company in Manhattan has before you hire them for routine maintenance:
Make sure they have a solid reputation with the BBB. The Better Business Bureau is a great source of information about companies to avoid – but they're also great about showing you who you can count on. Obviously, if you don't live in America you would need to look around in your local area for a service such as a heat pump repair calvert county.
Make sure their technicians are EPA certified to complete HVAC Maintenance. This means that the guys working on your HVAC system will place an emphasis on quality service, while not disturbing the environment of your business.
Make sure they offer you affordable programs. You don't want to hire one guy – one time to complete HVAC maintenance. A good HVAC maintenance program will be continual. So make sure anybody you hire will offer you an affordable commercial maintenance agreement in Manhattan that's tailor fit to your individual needs.
And that's it! It really is that simple to find a great and dependable commercial HVAC company in Manhattan that will save you money on routine maintenance and keep your heating and cooling system running strong – as it should.

Steps to Hiring a Honest HVAC Company in Brooklyn » « Do-It-Yourself Commercial HVAC Maintenance Tips in NYC