Contrary to popular belief, the American Dream is alive and well across many homes in this great nation. American's have been known as problem solvers, often using their creative juices infused with the supplies they have on hand to fix things that are broken. Sometimes these simple ideas morph into practical solutions – like the paperclip or superglue that make the inventors millions of dollars. And other times – well…the results speak for themselves.
Here are three of our favorite improvised HVAC solutions found in homes across this great country of ours.
Portable Tent Cooling System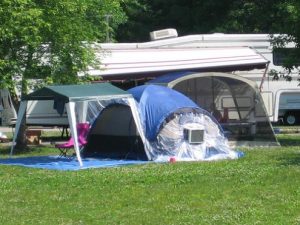 One of the best traditions in America is camping out. Whether it's a trip to the lake on a weekend or your annual pilgrimage to Woodstock or your favorite music festival, we simply love our tents. However, this great American patriot found a clever way to bring the creature comforts of home on the road with them by attaching a window cooler to the tent.
A closer inspection of this very interesting HVAC solution shows that apparently they secured the air conditioner to the tent via shrink wrap and duct tape. However, it appears that they have a pretty good seal so they won't be losing much cool air. Very creative and also very energy efficient as well. We'll give this one a 8 out of 10 points! #Merica!
Pop-Tent Trailer Air Conditioning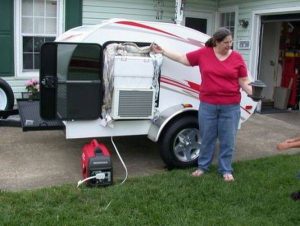 There are times when you simply don't want to leave your AC system while on the road. This clever pop trailer owner (we're not certain if the lady shown is the actual owner of the trailer) decided to secure their window AC system to the window of their pop up travel trailer. Power supply is not a problem with the clever attachment of the portable generator. In fact, this little sucker could power that AC system for well over 5 solid hours – without needing extra fuel – providing anybody sleeping in this trailer with comfortable air as they snooze.
Extra credit goes to the owner of this trailer for adding proper insulation to the outside walls of the trailer – however, it appears that the upper right hand corner of the trailer could use a bit of a touch up job. Minus -1 point for not having the 'ductwork' completely sealed. 8.2 points out of 10 for this effort!
FIREPLACE HVAC SYSTEM?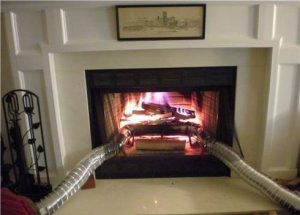 There are times in life when our commercial HVAC company in NYC sits back and wonders – 'what the heck were they thinking'. In this case, the owners of this home take our top prize for today's edition of the Improvised HVAC solutions with what appears to be a fireplace heating element.
Full points go to the home owner for using the correctly insulated heat ducts to apparently circulate hot air from the fireplace into the home. They also get extra bonus points for having an exhaust and intake for proper air flow. We're curious as to the air circulation method, however, it's our professional opinion that they probably followed the lead of our honorable mention posted below.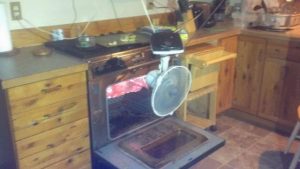 When you need to have your PROFESSIONALLY INSTALLED HVAC SYSTEM in NYC fixed, repaired, serviced or maintained – contact our team to do it right. Our commercial HVAC company in NYC has the best tools, the best people and the best pricing on all HVAC solutions.

Have a great weekend.

How to Save Money on Commercial Heating Repair in NYC » « Commercial Air Conditioning Repair Tips for Manhattan Businesses